In pictures: Coronation concert and UK street parties
In pictures: Coronation concert and UK street parties
Share pageAbout sharing
A star-studded Coronation concert took place this evening in the grounds of Windsor Castle, after a day of street parties and Big Lunch events around the UK.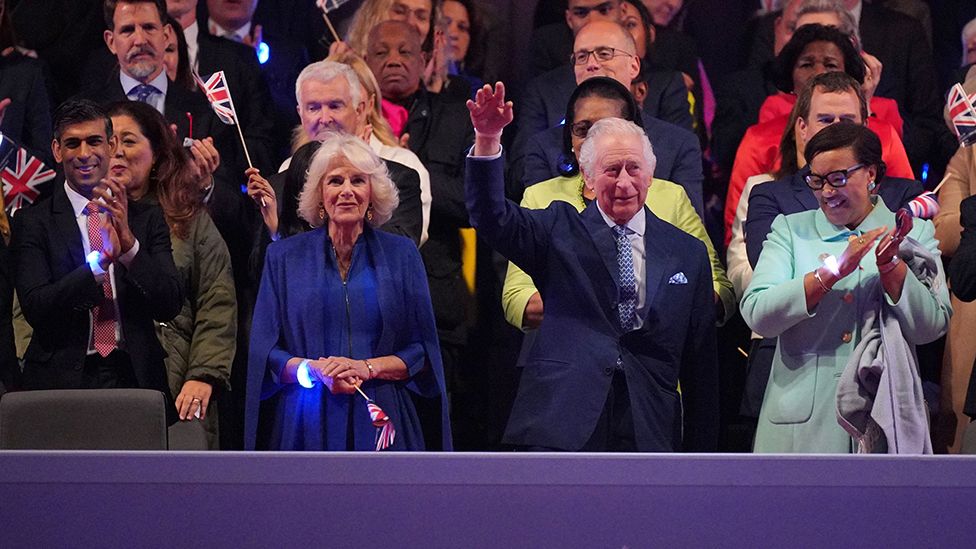 Members of the Royal Family watched from the Royal Box at Windsor Castle, alongside special guests including Prime Minister Rishi Sunak and Baroness Scotland.
Thousands also gathered to watch the spectacle as the sun went down, with performances from Olly Murs, Lionel Ritchie, Katy Perry and Paloma Faith among others.
Princess Charlotte was seen enjoying the Miss Piggy and Kermit the Frog segment, in which the characters spoke with the host Hugh Bonneville.
People also watched live screenings around the UK, from nearby Windsor to Blackpool Promenade.
Crowds arrived early to await proceedings at Windsor Castle.
And earlier in the day, Londoners were seen blowing bubbles and holding picnics to celebrate the King and Queen.
Prime Minister Rishi Sunak hosted the Big Lunch at Downing Street with his family, with US First Lady Jill Biden in attendance.
Members of the Royal Family also joined in across the country.
The Prince and Princess of Wales made a surprise appearance in Windsor, where they greeted crowds and well-wishers.
Prince Edward and Sophie, Duke and Duchess of Edinburgh, attended a Big Lunch event in Cranleigh, Surrey, with residents and representatives from the Royal British Legion, the Scouts and the Guides.
Princess Anne met residents at a street party in Swindon, Wiltshire, and Princess Beatrice and Princess Eugenie attended an event in Chalfont St Giles, Buckinghamshire.
Across the UK, thousands more participated in the Big Lunch; including in Newcastle, Morecambe, Alfriston, London and Doagh, Northern Ireland.
All photos subject to copyright.
Related Topics
More on this story
Who took part in the Coronation Procession?

Jonny Dymond: The curtain rises on the strangest show in town

What time is the Coronation concert?

Coronation order of service in full