Are there 2,000 more GPs than before the pandemic?
Are there 2,000 more GPs than before the pandemic?
Share pageAbout sharingRelated Topics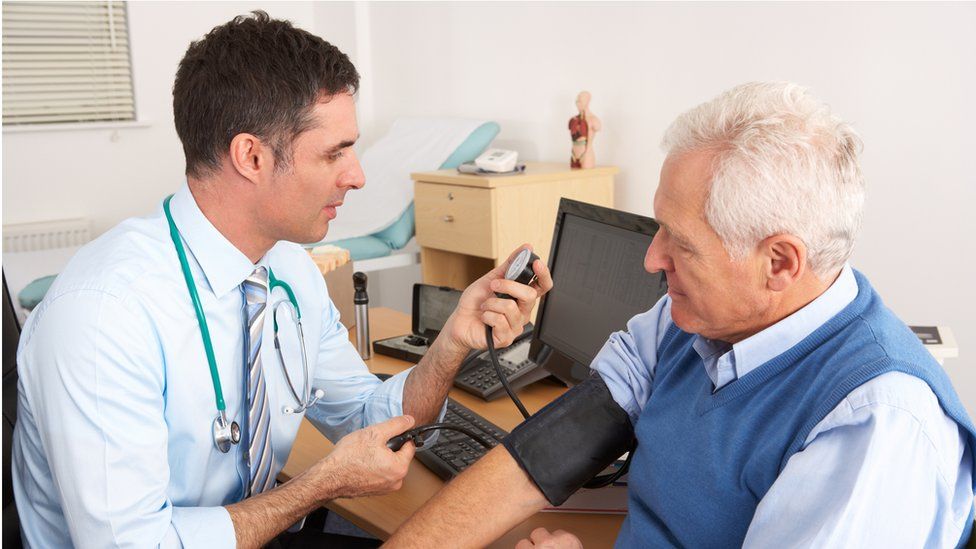 By Tamara KovacevicBBC News
Health Minister Neil O'Brien spoke on 9 May about the state of the NHS on BBC Breakfast, which had earlier heard from a GP who said there was an urgent need for more doctors.
Mr O'Brien said: "We've got 2,000 more doctors working in general practice than we did in 2019 before the pandemic."
Is he right?
How many GPs work in NHS England?
Mr O'Brien was talking about the number of GPs in England. Health is a devolved issue, which means that the UK government is only responsible for England's NHS.
The usual way to compare numbers of GPs is to look at the number of "full time equivalent" GPs, which is provided by NHS Digital.
Full-time equivalent (FTE) means that instead of counting the number of GPs regardless of the number of hours they are employed for, you count the number of contracted GP hours. That means, for example, that if you had two GPs contracted to work half the week each that would count as one FTE GP.
We asked the Department of Health and Social Care which figures the health minister was referring to. We were told he was comparing December 2022 with December 2019 figures, when there were 2,167 more doctors in general practice.
In December 2019, there were 34,519 FTE GPs working in NHS England. In December 2022, that figure was 36,686 - which is indeed 2,167 higher.
But the numbers of GPs has since fallen, and in March 2023 (the latest available data) that number was 36,428 - an increase of 1,909 on December 2019, which is just under 2,000.
In December 2019 the government promised that it would increase the number of GPs in England by 6,000 by March 2025.
Trainee GPs working in NHS
There are other ways of counting the number of GPs.
The figures above include GPs who are not fully qualified and are still in training.
Having lots of trainee GPs is a good thing if you're trying to increase GP numbers in the longer term.
But trainee GPs don't see as many patients as fully-qualified GPs. Some of their time is dedicated to education and some of the appointments they carry out are supervised by fully-qualified GPs, taking them away from seeing other patients.
If you exclude trainee GPs, there are 823 fewer GPs now than there were in December 2019.
Antibiotics prescribed at pharmacies to free up GP time
The areas with the fewest GPs revealed
Are GP numbers going up or down?
What claims do you want BBC Reality Check to investigate? Get in touch
Read more from Reality Check
Related Topics
Doctors
NHS England
Reality Check
NHS
General practitioners (GPs)